Meet Julia
Melbourne Photographer
As a young photographer, I have been fortunate to have had so many amazing experiences. From studying at a world-leading photography program to travelling overseas for underwater photography, these opportunities have helped shape me as an artist and photographer.
This is a website of my personal photographic explorations. As a photographer, I explore the commercial side of headshots and fine art portraiture for my clients. However, I feel it is important in my artistic process to create work purely for myself. So here you will find my fine art and conceptual projects, including my passion of underwater photography and my love for travelling. These are the projects that consistently inspire me, and push me as a photographic artist.
As a person, I am a relatively quiet observer, with a love for nature and the outdoors, for creating, for colour and vibrancy. I love dogs, indoor plants, and sweet things. I have three major passions in my personal photography: underwater photography; landscapes; and conceptual series. Whilst I adore my career as a portrait photographer, I am so grateful to be able to share the little pieces of me that I put into my conceptual work as well.
If you like what you see and would like to commission or purchase a piece, please contact me or visit my print store.
Contact: 0402 001 533 | info@julianance.com.au | Headshots & Portraits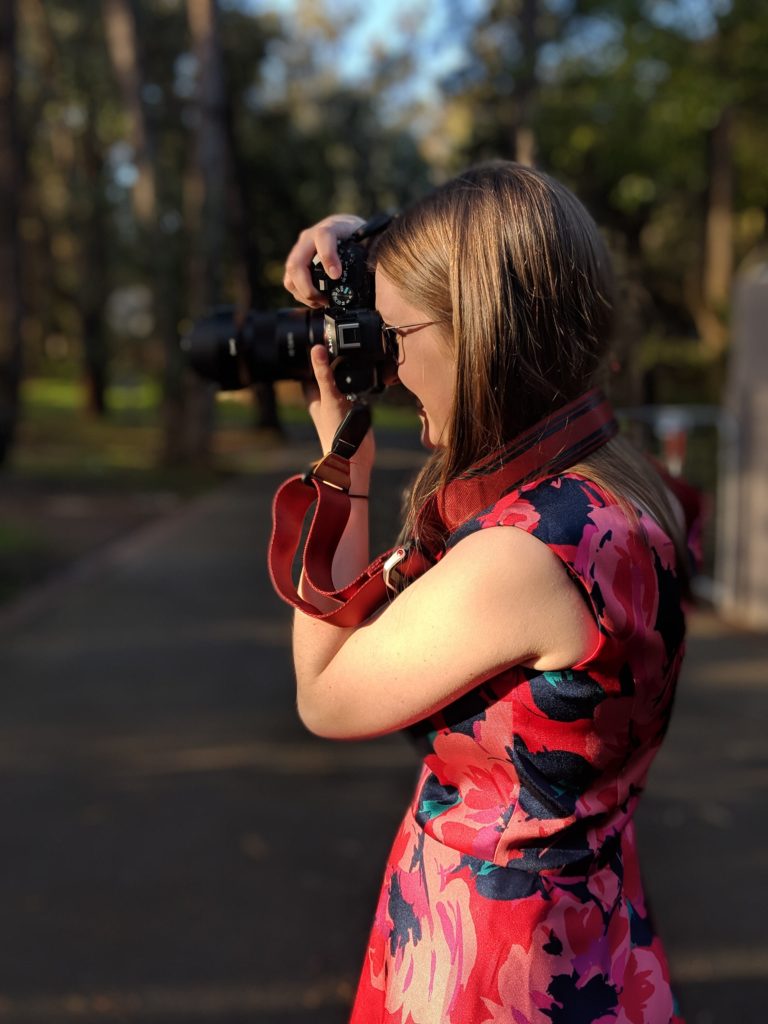 "There are so many things about the ocean I love. It is relentless and unforgiving, powerful and destructive. However, when you explore the underwater world everything feels calm. Perhaps it is the silence, or the pressure building when you need to take a breath. It could be the way the light dances. Then, a 12 meter mammal looks you in the eye and your whole world changes"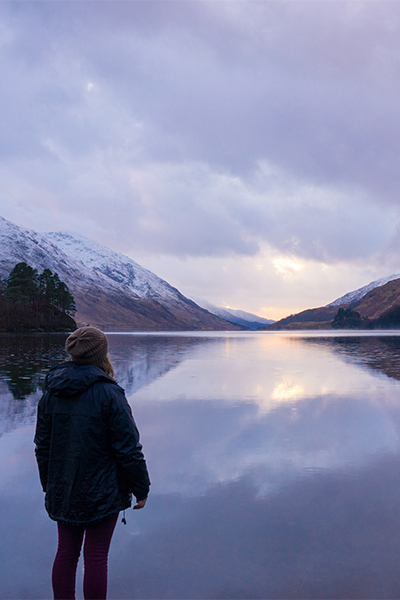 Qualifications:
2014, BA Arts (Photography), Royal Melbourne Institute of Technology, graduated with Distinction.
Awards and Achievements:
2018, Highly Commended in the Landscape Category, in the Capture Magazine Top Emerging Photographers competition, for series 'Stillness & Reflection'.
2018, Launched Julia Nance Portraits

2017,Highly Commended in the Art category in the 2017 Capture Magazine Top Emerging Photographers competition, for series Young Poise.
2015, Finalist Capture Magazine's Top Emerging Photographer's Competition – Advertising category.
2014, Winner Sally Brownbill Folio Consultancy Award.
2014, Winner for Two Girls Building, Abbotsford. RMIT Enchanted Competition.
2014, Graduated from RMIT University Bachelor of Arts (Photography) with Distinction.
2012, Runner Up in the Yarra Ranges Council Photographic competition.
2011, Awarded Dux of the Arts – Tintern Schools.
2011, Award for Studio Arts – Tintern Schools.
Publications and Features:
2018, Image featured on the Nikon Australia Instagram and Facebook Page.

2018, Images and interview double page feature in Tintern Grammar School Magazine 'Factis' (print and digital copies)

2017,Images and written article featured in Fiji Airways in flight magazine Fiji Time May/June issue.

2017,Image featured in the National Geographic Your Shot Daily Dozen, January 13, 2017.

2017,Image featured on 'Discover Ocean' Instagram account.

2016, Image Jonathan from the series Lovers chosen for inclusion in The Annual magazine by Capture (Emerging Category, published in Hard copy and electronic editions).
2014, Image Swan chosen for inclusion in The Annual magazine edition by Capture (student category, published in hard copy and in iPad edition).
2012, Yarra Ranges Council magazine front cover.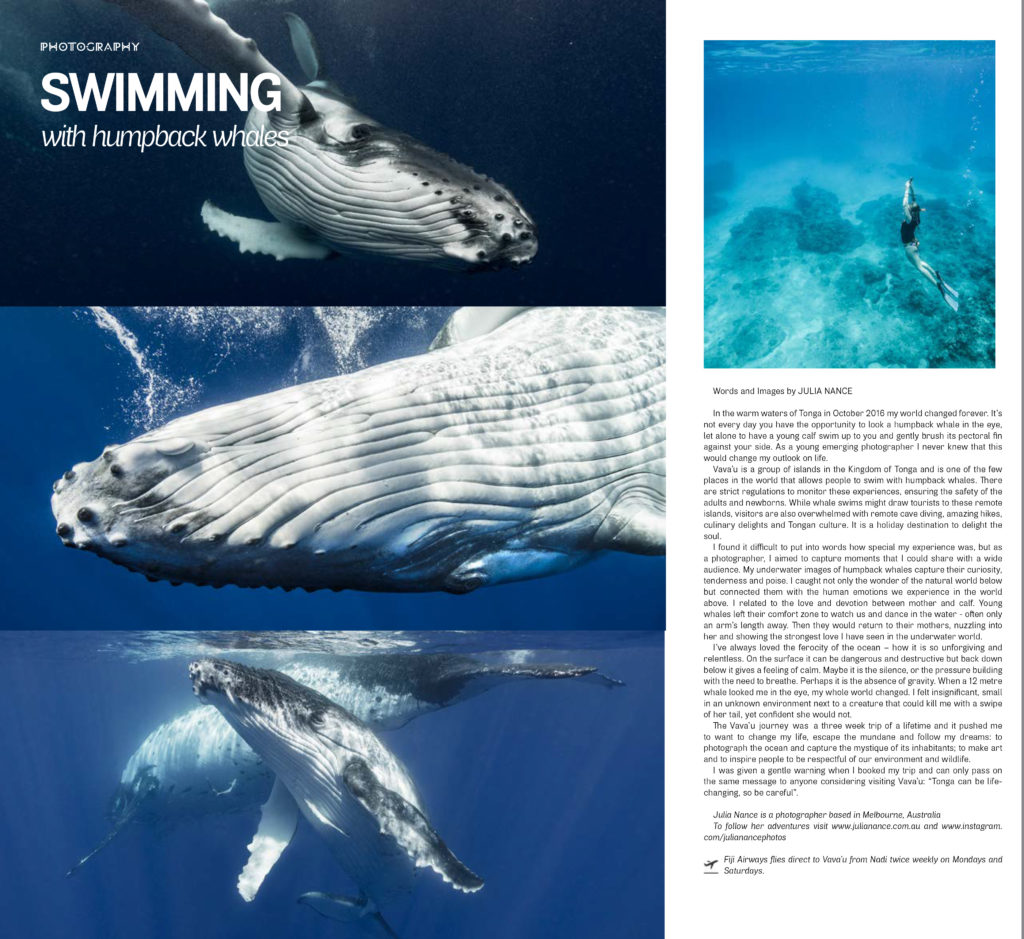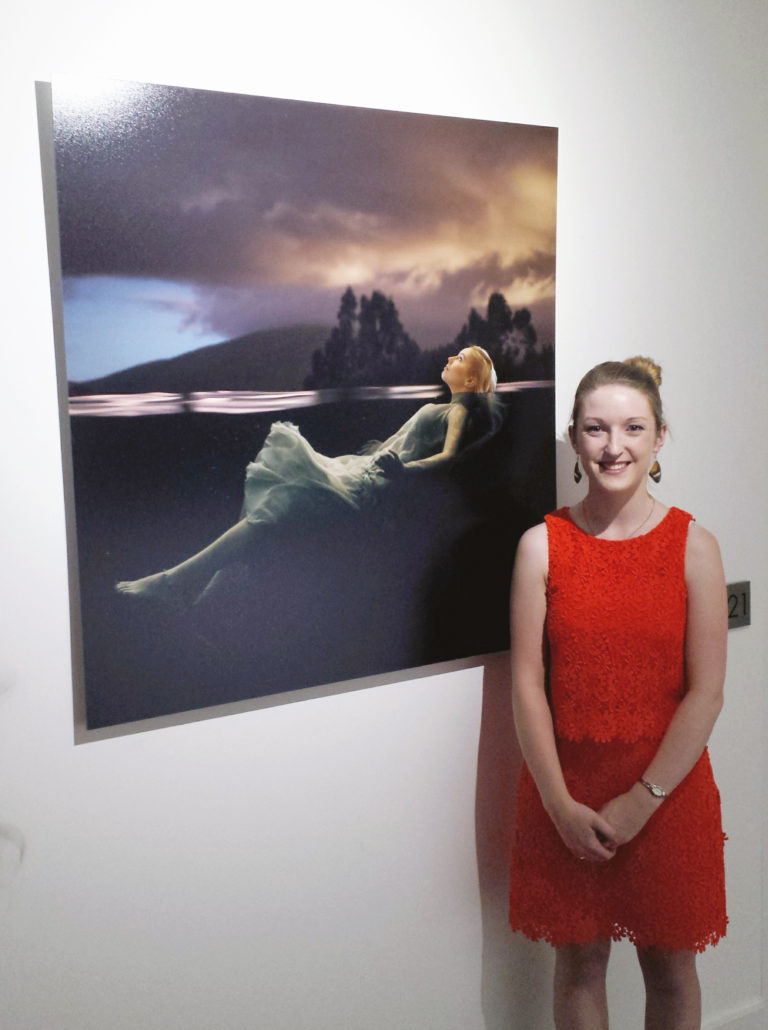 Collections:
2014, 2 pieces in the Tintern Schools permanent art collection – Swan, The Writer.
2014, 3 pieces in the Two Girls Building permanent collection, Abbotsford – Swan, Resignation, Lift.
2014, 1 piece in the private collection of Peter Cahill, art collector and Director of the Domain Hill Property Group – Swan.
Group Exhibitions:
2014, RMIT Graduate exhibition RAW.
2013, RMIT Second year photography exhibition.
2012, RMIT First Visions photography exhibition.
2011, Tintern Schools Year 12 Art Exhibition­.
Testimonials
"Julia's photographic works are eye catching and stunning.
A talented emerging artist and consummate technician, Julia is destined to make an indelible mark on the profession"
Peter J Cahill, Managing Director Domain Hill Property Group. Developer of the 2 Girls Building, Abbotsford.
"Julia Nance was lucky enough to win the Sally Brownbill Award from RMIT BA Photography degree at the end of 2014. This award is given to students who show a lot of potential in the commercial photography world. In Julia's work I saw a strong commitment to her image making and an attitude to match"
Sally Brownbill, Owner and Director of Sally Brownbill and The Brownbill Effect.
"Julia is a person with a very positive and constructive attitude towards her work and life in general. As a photographic artist in her own right, she is regarded for her perceptive expression and vision. Julia has a very strong work ethic towards her academic and art/photographic practice excellence"
Alex Syndikas, former program director of the Bachelor of Arts in Photography, at RMIT University.